I am an experienced location sound recordist for musical performance and film work.
I co-record with Daniel Kordik all of the releases on Earshots Recordings (apart of some of the field recording projects), along with live recordings for other musicians and labels.
I have worked as a location sound recordist on film sets for several projects, credits will soon be listed below.
I edit, mix and master musical recordings, location sound and field recordings.
Please get in touch if you would like to ask me about working on music or film projects.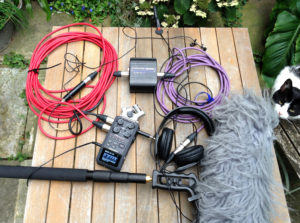 Click to view a selection of audio releases I have worked on
---
Film work
Sound recordist: Cycle 2018 (post production) dir. Andrea Luka Zimmerman/Adrian Jackson
Sound recordist/sound mix: The Partition 2018 dir. Birgit Ludwig
Sound mix: Annie 2017 dir. Birgit Ludwig
Sound mix: Soustraction 2015 dir. Birgit Ludwig
Additional sound recordist & music: Zabriske Point (redacted) 2013 dir. Stephen Connolly
Additional sound mix (uncredited) Magic Mirror 2013 dir. Sarah Pucill
Additional sound mix (uncredited) White Oil 2012 dir. Judy Price
Edit and sound mix: various projects since 2013 Mark Neville