Edward Lucas is a London based trombone player. He plays improvised and experimental music with a particular interest in electro-acoustic collaborations. His approach to the instrument is to explore its sonic possibilities using the materials to hand, and sometimes to expand with amplification and feedback.
He is co-founder – with Daniel Kordik – of the Earshots Recordings label and concert series which has been releasing music since 2013. The pair have a long standing trombone / synthesiser duo (Kordik / Lucas) which recently teamed up with Eddie Prévost and his Matchless label to release High Laver Reflections. This was a set of recordings made by the group at the medieval All Saint's Church in High Laver, Essex.
Groups and associations include many with musicians from the London improvised music scene and beyond including the London Experimental Ensemble, Hyperion Ensemble (playing the music of Iancu Dumitrescu, Ana-Maria Avram, Tim Hodgkinson), and the London Improvisers Orchestra.
member of the London Experimental Ensemble; occasional member of the London Improvisers Orchestra.
sound recording & production: music and film projects; location sound and audio post-production training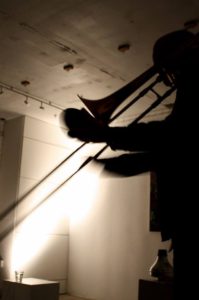 contact:
edward@earshots.org